We Express Our Solidarity with Hala Ahed Amidst the Takfiri Incitement Campaign Against Her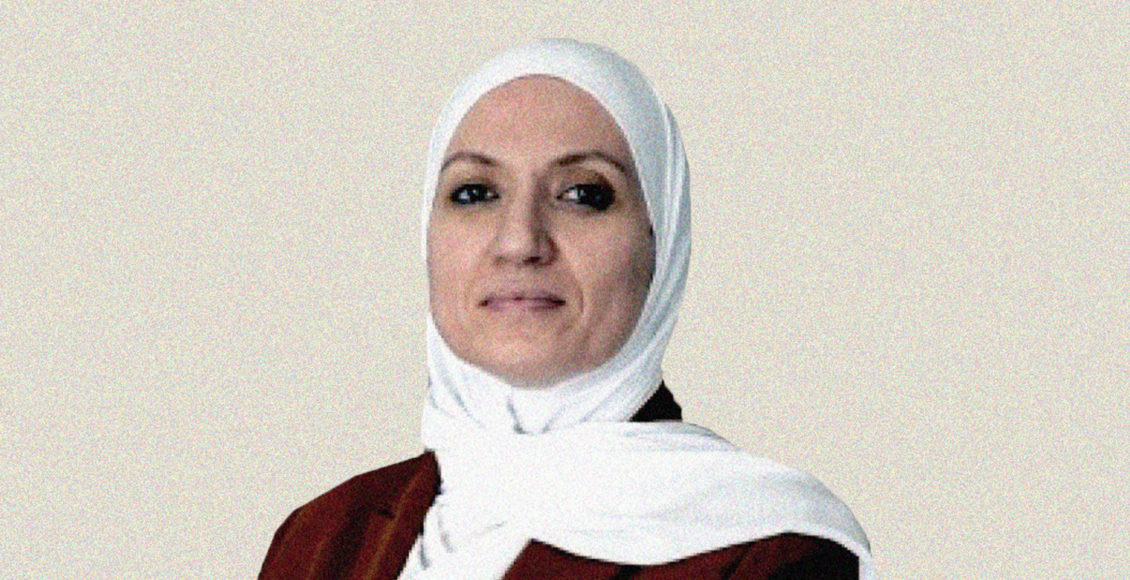 "For the Islamized feminist, awareness is to challenge the scholars and Bukhari", "A Veiled feminist is infinitely more dangerous than a feminist with blue hair and a pierced nose."
"We don't have such a thing as civil rights, we have Islamic law," "Feminism is a misguided ideology and is not accepted by Islam."
With such misogynist and stereotypical terms, patriarchal takfir has directed incitement and defamation against Jordanian lawyer and human rights activist, Hala Ahed.
This incident occurred on social media, following the Jordanian organization "Ahl" announcement that Hala Ahed would conduct educational sessions on the fundamentals of feminism and how they intersect with concepts like social justice.
Since June 15, 2023, violent and obscene hate speech against Hala Ahed has continued.
Under the pretext of defending moral, familial, and religious values, haters used the most horrific and mean words.
They accused Hala Ahed of carrying "Westernized" concepts that contradict society, its customs, traditions, and the provisions of religion in Jordan. This led to the suspension of the hearing until further notice.
However, Hala Ahed then tried to clarify the specificity of feminism in the Arabic-speaking region, and the fact that it is radically different from feminism in Western countries, in terms of contexts and concepts. She also touched on the extent to which Arabic feminism is linked to anti-colonial and anti- dictatorship social movements.
But in recent days, the blatant attack has extended to threatening, hacking into her phone and non-consensual circulation of her personal data and private information.
Added to this is demanding that she should be pursued, prosecuted, and stripped of her Jordanian nationality, simply because she is a feminist who has a position that is biased towards the issues and rights of women and girls, and believes in the principle of achieving justice for marginalized groups.
Hala Ahed confronts oppression and silencing
In response to being targeted by curses and being expelled from the religion, Hala Ahed tweeted: "I stand by my principles without any shame. I am pro-equality and social justice, and I strongly oppose any form of injustice and discrimination."
"Whoever thinks that the scale and obscenity of the attack can scare and silence me, is mistaken. On the contrary, it is my biggest motivation to continue. The road is difficult and long, but the journey is worth it,"
She also said in another tweet: "Perhaps every decent follower has the right to know why I am a feminist. I understand the motives of those with hostile reactions to my arguments."
"I don't have to accept or respect their ideas. They are ignorant and refuse to acknowledge that women have been deprived of their rights. They declare this mindset with explicit misogyny."
Hala Ahed expressed that she is "a continuation of the efforts of women activists, jurists, and human rights defenders who have dedicated their lives to the advancement of women and girls and have made significant strides in this regard."
"They are now trying to delegitimize my struggle, as a Muslim woman who wears hijab," she concluded.
Feminist and human-rights-based solidarity with Hala Ahed
This systematic digital backlash on Hala Ahed has driven several human rights and feminist groups, both in Jordan and internationally, to stand in solidarity with her against what they described as "gynophobia."
A group of over 250 Jordanian figures released a statement denouncing the allegations of atheism, demonization, and threats aimed at activist Hala Ahed. They expressed concern about the harmful language being used on certain social media platforms and urged for it to stop.
They expressed their solidarity with Professor Hala "in the face of this tendentious campaign." They said: "We are proud of her because she represents a distinguished role model for Jordanian women, as she is a brave advocate of human rights. Her work has been instrumental in fighting against injustices that have impacted various sectors of society. Many citizens across the country recognize her efforts and have praised her for it.
They stressed that "Ms. Hala's participation in an educational course on feminism is an exercise of her human and constitutional rights, such as the right to opinion, expression, and thought."
"Trying to silence or exclude any opinion simply because of disagreeing with it, through intimidation and demonization, fabricating photos and videos, threats and takfir, undermines the constitutional guarantee of the human right to think freely and express one's opinion freely without fear of an authority or members of society," they said.
For its part, "Ahl" expressed its confidence in Hala Ahed and its support for her.
The Himam Coordination Committee for Civil Society Organizations has issued a statement of solidarity, urging the Jordanian Public Prosecutor to take swift action to ensure the safety of Hala Ahed. They also emphasized the importance of creating more opportunities for public dialogue.
Next to it, the feminist group "Takatoat" recalled Hala Ahed's legacy and what she has done to defend human rights in Jordan.
The Gulf Centre for Human Rights (GC4HR) issued a statement condemning "the unfair campaign against Hala Ahed." Despite her efforts to defend the civil and human rights of citizens, she is facing unjust treatment. The GC4HR believes that she should be celebrated for her accomplishments instead.
The organization GC4HR has called on the Jordanian authorities to provide protection to Hala Ahed so that she can continue her peaceful work without experiencing any harassment or targeting.
The "National Forum for the Defense of Freedoms" was taken aback by the intense attack on Hala Ahed, a member of the forum. The campaign included fabricated opinions and beliefs falsely attributed to her, which she never expressed.
In a statement, the forum called on Jordanian citizens "not to engage in these suspicious campaigns," declaring full support for Professor Hala.
Public solidarity with Hala Ahed
Activists expressed solidarity with Hala Ahed on their social media pages.
Jordanian activist Banan Abu Zaineddin said in a tweet that "focusing on criticizing human rights defenders and figures who make an effort for the sake of community issues such as Hala Ahed is nihilistic and destructive."
Activist Samir Mashhour tweeted to condemn the death threats sent to Hala Ahed.
Meanwhile, activist Omar al-Atout criticized Islamist political parties, for their double standards both inside and outside Jordan.
Who is Hala Ahed?
Hala Ahed is a Jordanian lawyer and human rights activist, who has been awarded the Front Line Defender Award in 2023 for her courageous work in defending human rights. This award is given to activists at risk for their efforts to promote and protect human rights.
In a televised interview, Hala Ahed said: "As long as there is discrimination and violence against women, exclusion in the labor market, and political participation, we will continue to fight."
"We aspire to a world where women live freely and equally. Work should be done to amend legislation that is blatantly discriminatory against women."
Hala has worked with several human rights and feminist organizations to defend women's rights, workers' rights, freedom of expression, and peaceful assembly.
On several occasions, she has called for the renewal of religious discourse and the re-reading of legal texts with a new understanding that suits the present time.
She also courageously expressed her position on the personal status law in Jordan, which is derived from jurisprudential rulings and Shari'a Law.
She touched on procedural matters such as divorce, custody, guardianship, alimony, child marriage, and other issues related to the rights of women and girls.
Patriarchy in Jordan, with its legal, religious, media, and social proxies, tries to silence and exclude feminist activists by isolating them from their communities.
This is in an attempt to prevent feminist activists from promoting awareness about feminist issues that aim to resist injustice and discrimination against women and girls in these societies. Especially since the sessions targeted by the incitement campaign have already garnered a significant response for participation.
As "Sharika Wa Laken", we affirm our absolute solidarity with Hala Ahed in the face of the despicable attack she is subjected to. We also stress that these campaigns are an additional motivation for us to persist in what we are doing.