Syrian Women Witnessing Death and Natural Disasters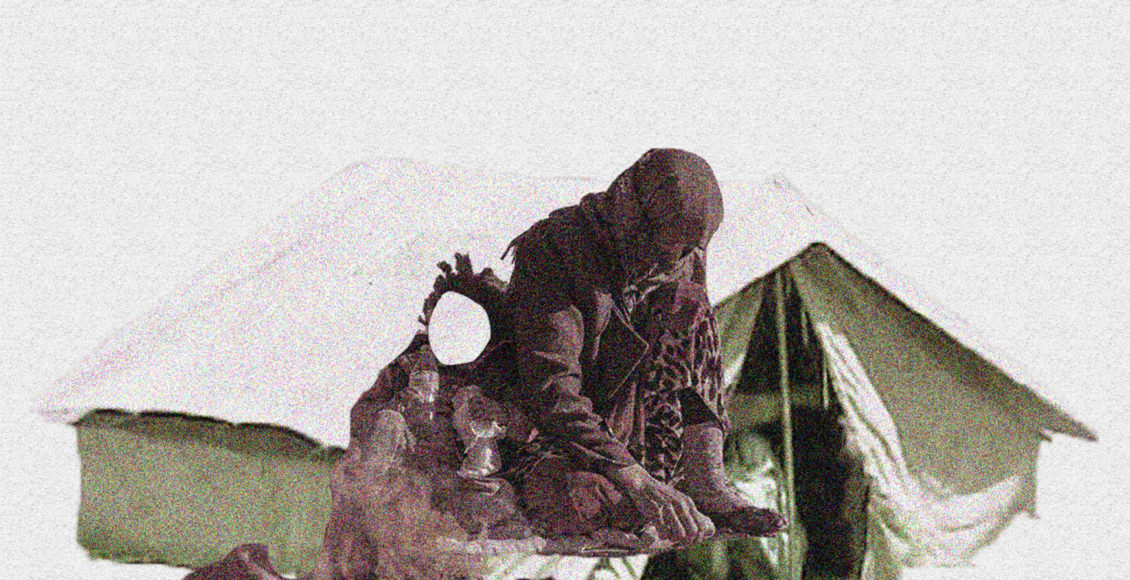 The dawn of February 7, 2023, is the day nature got angry in Syria and Turkey, and the earth shook.
The day I felt feelingless, everything was completely shaken. Scenes that neither the mind nor the heart will forget. Death that surrounds all people without exception.
Women were screaming loudly, one of them was carrying two children and the third holding onto her leg. While trying to get her children out of a slum area, all of it was shaken.
While another woman, despite the shaking of the earth, did not forget a bottle of water and a carton of milk.
Sentences may seem incoherent. But, it's the fear that affected the lives of Syrian men and women, and it is still ongoing.
In this investigation, a collection of testimonies of the reality of Syrian women after the earthquake, and testimonies of survivors, volunteers, and civil activists who suggest solutions.
The Experiences of Some Syrian Women
The present feeling is the same among all the provinces that lived through the details of the disaster. But, the reactions and testimonies differed.
Saba Mansour, a TV reporter from Latakia, shared her experience with "Sharika Walaken".
She said, "I started to get scared when I heard wind for the first time before the earthquake. I felt that the wrath of God occurred on this day."
She added: "At first we thought it was normal tremors, so my sister and I grabbed each other, and the walls were throwing us from place to place. My sister passed out in my arms, I tried to wake her up, and pulled her down the stairs of the building. Death was so close, like in horror movies. Our house is destroyed or almost destroyed."
Saba explained that she had been covering the details of the war as a journalist for 12 years, but today, "I have become the event and the one who reports it, all together. I took hold of myself again, and stood by my brothers and sisters, and provided them with psychological support, despite our forced displacement."
Walaa Tamim: "The hardest 30 seconds of my life"
In another story from Latakia, the devastated coastal city, the civil activist and journalist Walaa Tamim talked about her experience with "Sharika Walaken."
She said: "On this day, I left my house to go to my aunt's house. The walls started hitting us left and right. My cousin and I crawled down the stairs. It was the hardest 30 seconds of my life."
Walaa suggested that psychologists call this feeling the "30-second feeling."
She also indicated that it was "an indescribable feeling, and I don't know if I will be emotionally able, or if I will have the ability to enter my aunt's house again."
She confirmed that she "saw a very difficult scene, which was the collapse of my friend Salma's building. They are the only family that left the building completely without any of its members dying."
She also explained that she saw "my friend's past, her childhood and her memories collapse. I grabbed a school bag, apparently belonging to a child who was studying and preparing for an exam, and the remnants of a piece of paper on which the results of an incomplete card game were written. The papers remained and the people were absent."
On the other side of the earthquake, when the ground shook under the feet of the residents of Aleppo, Fatima experienced severe pain.
She spoke to "Sharika Walaken" about her experience with a voice filled with all the pain of the earth. She explained that she had lost 11 members of her family.
"My mother died, and my brothers and sisters. I only have one brother left, and he is in intensive care," Fatima said.
She stated that her mother "when I called her, tried to take me to sleep with her in the car, but my husband refused, and pointed out that their area is not safe."
She added, "My mother died after the big earthquake, while she was trying to get her clothes from the semi-destroyed house. I only remember less than a minute, filled with fear, and what was left of my mother's voice."
"I wish it was a long nightmare, but I will be strong for my family," she concluded, as her tears mingled with a huge gasp.
Was the war a rehearsal for a greater calamity to prepare Syrian women for more disasters?
Despite all the disasters that Syria has experienced since 2011, women have not stood idly by since day one. Each one acted according to her location, work, and access.
There are many individual and collective feminist projects that have been launched since the morning of Black Monday, and are still ongoing today.
Heidi Hafi, the founder of the "Haqaniyat" group on Facebook, and the social media activist, undertook the establishment of a team of women, and the collection of aid to be sent to the affected areas.
In an interview with "Sharika Walaken," she explained that their mission now "is to heal people's wounds, and to offer what we can. Syrian women think about the smallest details when making a donation."
On the other hand, the owners of the "Sobol" workshop in the city of Nabek, in the countryside of Damascus, thought in a different way.
Hanan Khazna, one of the participants in the workshop, explained to  "Sharika Walaken" that the idea "was born from the need for clothes in this disastrous circumstance."
So they thought of converting the atelier's production into underwear, fleece sets for women and children and men as well.
While Hanan said that "no female worker in the city hesitated to work for a small wage. Girls from the technical school volunteered for this task, to think of a way to provide warmth for the affected people."
Women in the affected areas did not stand crying over the ruins without taking action.
The historical researcher Ruby Touma, a daughter of the city of Aleppo, launched an individual initiative that she spoke about to "Sharika Walaken".
She said: "I felt as if it was the Day of Resurrection, fear, horror and crying. But what can I do? Shall I stand still?"
She explained that she "graduated from college, majoring in history, and I'm currently in my fourth year at the Faculty of Law, and my financial condition is very modest. So I passed by hospitals, donated blood, walked among people, and used my experience to detect broken homes, and the expertise of the competent authorities.
She also added that she "treated women, children and girls in shelters. Many women's calamities have increased and they have lost the breadwinner, especially in the neighborhoods that have collapsed, which are the poor neighborhoods in the east of the city, and women are more in need of work that guarantees their rights and their livelihood."
Individual Women's Initiatives to Help Syrian Women.
In Lattakia, the stricken journalist Saba Mansour did not sit idly by. Rather, she continued her work, reported the pain of people, and appealed to the world for them.
In her interview with "Sharika Walaken," she said that "despite the Syrian women's loss of their breadwinners, and despite the presence of underage girls, we saw success stories from them during the war."
And she considered that "Syrian women can always stand up again after each injury."
She also explained that "there are many affected women, but they have already proven for the second time their willpower and how they don't quit in the face of the disasters that have befallen them since the beginning of the crisis."
While she confirmed that she had seen many stories, for example, the story of a sixty-year-old woman who saved herself from the earthquake, despite the great damage to her body. She was determined to return to her life and work.
Saba said, "Syrian women have become very strong after all they went through, and they do not need a breadwinner. All they care about is to show their children that they are not weak, and that they are able to embrace what is left of them with love."
For her part, Walaa Tamim worked on an initiative to deliver the needs of women and girls to shelters, including sanitary napkins, sterilizers, and soap, and veils for veiled women, and underwear.
She attributed the reason to "the tendency of most people to secure clothes and food, while the things we distribute are no less important than food and drink for women and girls."
The Opinion of Female Civil Workers
"Since the beginning of the war until today, the shelters have not been equipped in a way that suits women and their safe space," said civil activist Anwar al-Abdullah.
Anwar explained, "Women today need a safe place, especially when it comes to gynecological diseases, menstruation, and personal hygiene."
She explained that it is still "an embarrassment in conservative areas, especially for women who have recently given birth to their children, on the day of the earthquake, or a few days before it."
While she emphasized that "the disaster occurred, and planning now must be for the post-earthquake phase, in terms of psychological support and support for women and girls."
For her part, civil activist Rana Sheikh Ali considered that the need now is for "relief plans that are sensitive to the needs of women and girls after a long crisis."
She said, "The indications were clear, meaning that shelters must take into account the physical needs of women."
She talked about "the need of women and girls for personal hygiene, sanitary pads, sterilizers, and towels."
These requirements do not exist today enough, and it is not enough to think of food, drink and clothing only, despite the importance of these matters, according to Rana.
She added, "Governmental plans, and plans of international organizations, must be drawn up based on studied needs. Priority should be given to affected women, others who have lost their breadwinners, university girls and others."
Rana suggested thinking of funds to support them and benefit from the experiences of other countries, such as Haiti, in dealing with these disasters, taking into account gender sensitivity.
So what awaits Syrian women after the trials of death and life together? A question of God's will.