Pride Month: The Right to Appearance and Owning Spaces or Capitalist Colonial Exploitation?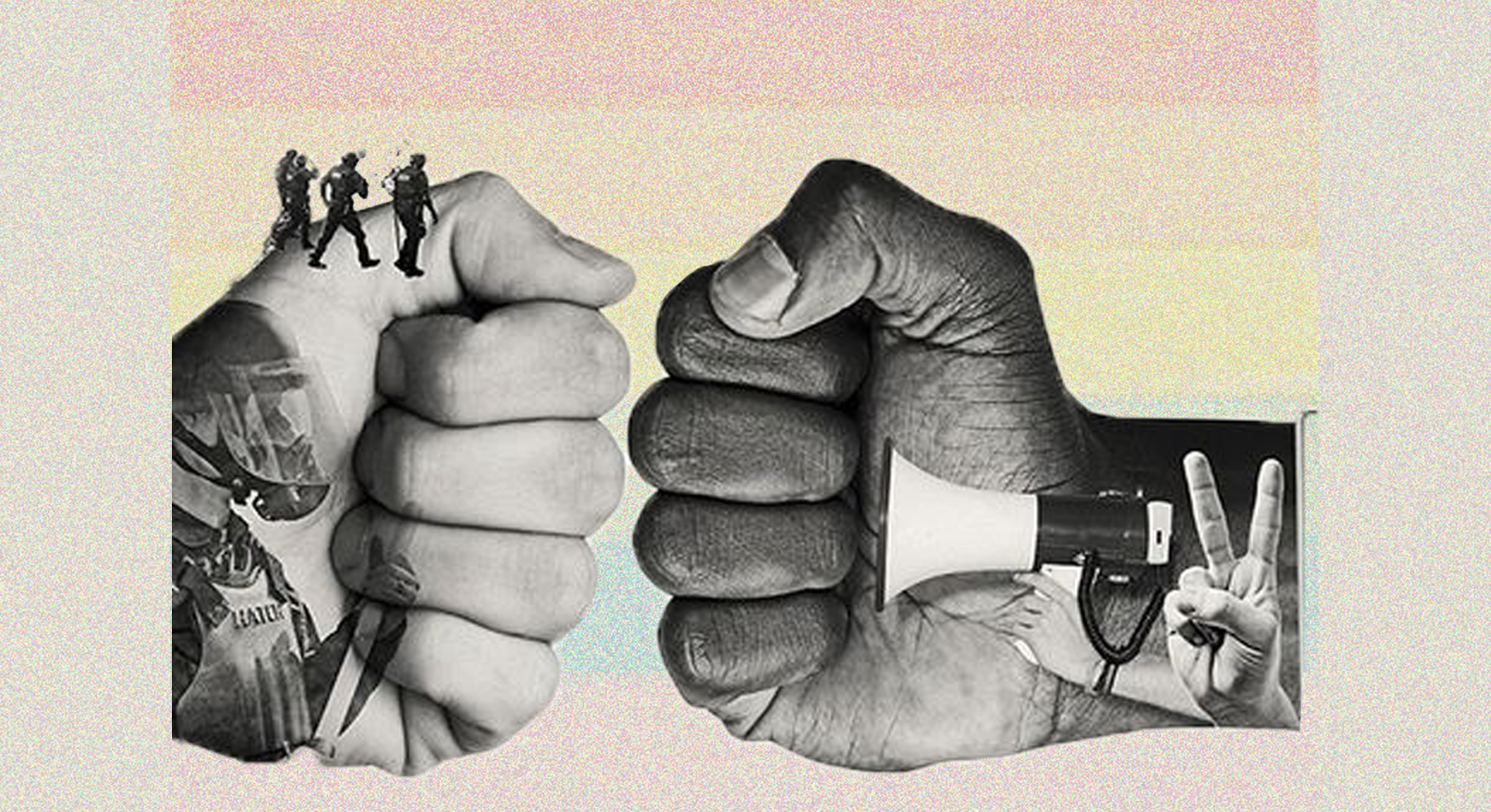 By: Ghiwa Nasr
In the late sixties, amidst the race of nations towards progress, particularly during the Cold War, freedom was only allowed if it fits into the context of this challenge.
At that time, the West was not what it has recently become, and LGBT people were confined to legal provisions that stripped them of their existence and forced them to obey the norms.
Like all marginalized groups that face oppression, segregation, and elimination, they face the disemboguement of international hegemony, the expansion of which has trampled on its way to control millions of hopes for life and freedom.
At that time, in New York, in the state of modernity, evolution, and the realization of dreams, LGBT people had no choice but to dream, as they were criminalized and those who accepted them were also criminalized.
They hid in the black alleys, which are far from the control of the repressive power, but still lie in the grip of criminal gangs. They were looking for an opportunity to be unchained, albeit with many risks to their lives.
The Stonewall Inn nightclub, despite all the desolate circumstances surrounding it, was a safe haven for members of this community, who went to the pub to taste a dash of the limited freedom and a morsel of the by-then forbidden and criminalized love.
But on the morning of June 28, 1969, NYPD raided the club in the state's West Village. The first rebellion against malicious repression began, giving rise to the Month of Pride.
But the club's patrons, who numbered 300 that night, were sick of hiding. So, they decided to confront.
A days-long uprising for the rights of LGBT people began. It was the first spark in a long march for the right to exist and live in peace.
Why Celebrate Pride Month?
Pride Month is an entire month dedicated to commemorating the Stonewall uprising and advancing the LGBT community.
It is a global stand of solidarity in the face of discrimination and violence against lesbian, gay, bisexual, transgender, and queer people, to encourage self-affirmation, promote pride in gender identity, and activate social inclusion.
Who Are the Most Prominent Figures Behind These Movements?
Marsha Johnson
An African-American transgender woman was celebrating her 25th birthday when police stormed Stonewall.
She was reportedly the first to strike at the police and ignite the uprising.
Silvia Rivera
A drag queen who fought for LGBT rights alongside Marsha Johnson.
She has also established "Star", an association that helps homeless, young LGBT men and women.
Storme DeLarverie
She was a gay rights activist and drag queen.
She was also in Stonewall when the uprising broke out where she stood on the front lines against the police.
Who Are the Ones Forbidden of Pride?
But despite all the victories achieved by these free spirits, we must not forget that there is a large category of LGBT people who are prevented from celebrating the month of pride, banned from existence, and condemned to isolation, humiliation, and fear, because their differences frighten ossified regimes that refuse to keep up with development, because of the damage it may cause to their patriarchal authorities.
They are forbidden to be proud, outcasted from life, even if they resist, and remain trapped until their last breath, as in the case of Sarah Hijazi, who refused to hide from their maliciousness and resisted.
She refused to lie, and they killed her. She was like many in our Arab societies, trapped in an endless struggle with the self, burdened by the lie of our customs, traditions, systems, and history.
Colonialism and False Freedoms
Despite the suffering the LGBT society is going through, their cause and seasonableness, i.e., the month of pride, are also being exploited for special interests and ambitions, especially from Western countries, which claim to be the godmother of freedoms.
In addition to the marketing policies adopted by international companies to increase profits, there are fascist colonial regimes accustomed to methods that violate the most basic human rights. Those claim support for such causes to whitewash their history; they are false narcissistic regimes that adopt emancipatory causes to cover up their ill practices.
Recalling the Cold War in the introduction of this report wasn't in vain. That war, and the wars that preceded and followed it, are nothing but an extension of a colonial mentality that has evolved and adapted with time until it mastered the manipulation of facts for the sake of expansion and power. It falsified and devoided freedoms for the sake of occupation.
Perhaps the most prominent and clearest example before us is the Israeli occupation entity, which has always appealed to the world with its lies. Today, it resorts to "pinkwashing" to wipe the blood of Palestinians from the façade of its history.
What is Pinkwashing?
"Pinkwashing" is a complex term associated with the issue of LGBT rights and is used to describe a variety of marketing and policy strategies aimed at promoting products or policies of countries, individuals, or entities by demonstrating LGBTQ support for the promotion of a progressive, modern, and tolerant image that recognizes the rights of oppressed minorities.
The term "pinkwashing" was given to the Israeli propaganda campaign "Brand Israel", which is systematic according to a racist principle, and with a colonial logic that promotes Israel among the LGBT community as a tolerant state with this group of society, to whitewash its history and its criminal and brutal image as an occupation and colonial state, into a democratic, liberal and open state.
Often, this campaign is accompanied by other global promotion campaigns claiming that Palestinians suffer from homophobia represented by their Arab and Islamic culture, and social and religious structure.
Pinkwashing addresses LGBT people and queer Palestinian women, claiming that the occupation entity is their safe haven, as it protects their rights.
This plays a major role in the discourse of "pinkwashing", which cannot be separated from colonial logic.
It protects Palestinian women as long as they are willing to abolish one of their affiliations, giving them a choice between one identity and another. But is there a partial identity?
In our societies, identities, freedoms, and causes are fragmented, and the individual is left to resist all sides alone. Like Muhammad al-Kurd, an inhabitant of Sheikh Jarrah, who faced and continues to face the usurping occupation of the colonizer and the stifling provisions of society.
Muhammad was destined to go through this conflict under the banner of inherited masculinity, passed down by emperors of the whole world.
His only fault was that he existed and held on to this existence. But lies always haunt us, west and east, and everywhere. Will freedoms ever triumph?