Lebanese Women and Girls Do Not Feel Safe Outside the Home. "I Carry a Knife in My Bag"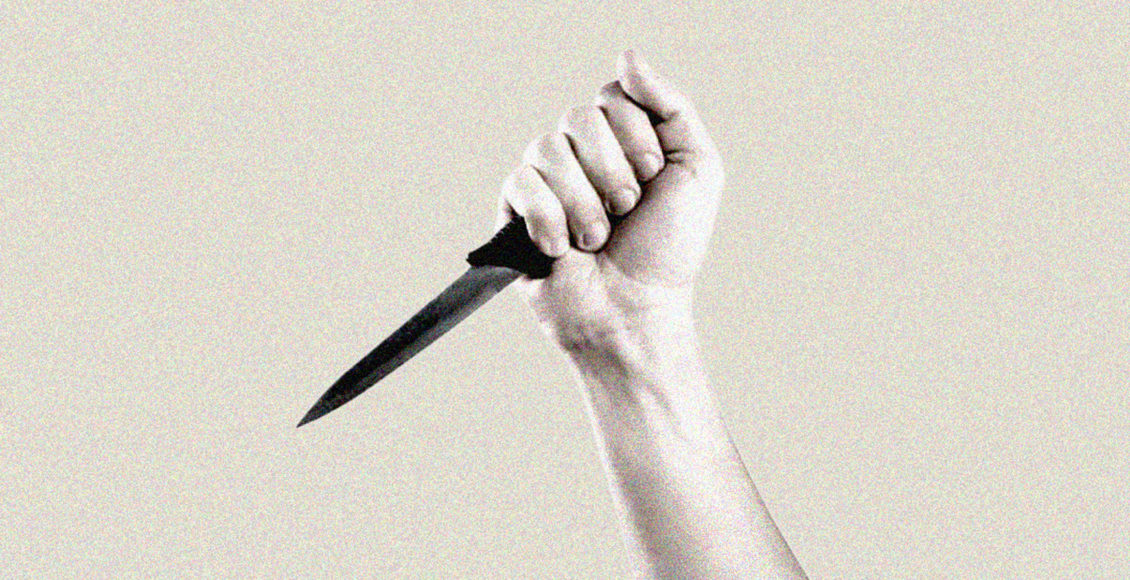 By: Fatima Haidar
"I became afraid to go out at night. I lock my car as soon as I get in. I don't stop for anyone, whatever the circumstance. My brother will accompany me if I have to go out at night. It's like a city of horror."
This is one of the testimonies and quotes of a group of Lebanese women and girls, in response to a question about violence outside the home, amid indicators of societal chaos, and the increase in the number of crimes in Lebanon as a result of the deteriorating Lebanese crisis.
Other Lebanese women have found alternative ways to being confined to fear and staying at home for fear of violence outside the home.
They chose to arm themselves with sharp objects, for example, to protect themselves in case they faced an attempted robbery, kidnapping, or rape.
Live Testimonials
Therefore, "Sharika Wa Laken" conducted a series of interviews with young Lebanese girls and women to find out what scares them and how they are trying to protect themselves.
Nadine J., a night-shift waitress in a restaurant in downtown Beirut, said: "I carry a sharp knife everywhere, in my car and my bag. The situation has become frightening."
As for Sarah, she was robbed a month ago while she was in the Hay al-Sellom area, in the southern suburb of Beirut, in broad daylight.
She told 'Sharika Wa LAken,' that "the thief was on a motorcycle when he saw her opening the car window, and in the blink of an eye he snatched the handbag and fled."
She tried to chase him, but the traffic prevented her from following him, so he was able to disappear in a flash, because he could move his motorcycle swiftly between cars, and then entered one of the narrow alleys.
Sara recalls the incident saying: "Fate meant that the incident happened when her child was in school, otherwise it would have been worse."
As she put it, she stays at home most of the time for fear of roaming thieves, amid the absence of security and police.
"I advise every woman to be very careful during her commute, and to stay away from dangerous places where accidents are common."
Selena W., a journalist working for a news website, thwarted the robber's plan.
In her interview with "Sharika Wa Laken, " she stated that she was walking into the Furn El Chebbak area when the thief tried to retrieve her handbag. But she was holding it tightly and screamed, forcing him to run away.
Selena didn't file a complaint and doesn't intend to do so, and this thief is still at large, roaming the streets of Beirut right now.
"I don't like to go to police stations," she said. "Some security officers don't treat women and girls well and mock them."
"Commuting without a car complicates the matter and doubles the likelihood of verbal assault or theft. Added to this is the nature of work, which sometimes imposes night shifts."
Women and girls of Lebanon amid societal chaos: Scary numbers
This tour and interviews were conducted in different areas, namely in Beirut, Dahyi, Achrafieh, Hayy al-Sellom, Furn al-Chebbak, Khaldeh, and Tyre, following the publication of a study by the United Nations Office for the Coordination of Humanitarian Affairs (OCHA) entitled "Increasing Humanitarian Needs in Lebanon".
The study, published by UN Women on April 29, 2022, examined the situation of Lebanese women and girls, in light of the societal chaos resulting from the economic collapse of the country.
The study indicated that 60% of women and girls do not feel safe on the public street, and 41% of them are afraid in the supermarket. 25% feel anxious while commuting on public transport, and 5% feel fear inside their homes.
The study also revealed that a quarter of Lebanese households fear for the safety and security of women and girls in society. More than a third of families are worried about the safety and security of girls outside the home, from crimes such as rape, violence, kidnapping, and others.
Safety concerns are exacerbated for women and girls in rural areas. Fear rates for women rose to 49% among families in Akkar, 39% in the North, and 38% in Baalbek-Hermel, according to the study.
Security-wise: pickpocketing and extortion
Amid these concerns and figures, a senior source from the Internal Security Forces Directorate confirmed to "Sharika Wa Laken," that "the latest figures of crimes in Lebanon indicate that women and girls are the most vulnerable to the crimes of pickpocketing and sexual extortion."
Based on the statistics of the General Directorate of Internal Security Forces obtained by "Sharika Wa Laken", the monthly rate of crimes for the years 2021-2022 in Lebanon indicates an increase in the percentage of theft (houses, shops…) from 495 in 2021 to 554 in 2022.
The crime of pickpocketing rose from 35 to 49, and armed robbery from 44 to 45. While car theft rates dropped from 110 to 86, homicides also decreased from 17 in 2021 to 15 in 2022.
"A Bodyguard,"
Dr. Adeeba Hamdan, a professor of social sciences at the Lebanese University, told 'Sharika Wa Laken', "Women, and girls in particular, are more affected while being in a threatening environment."
She attributed the reason to the fact that, despite all their participation and positive contribution to the development and building of society, they are still socially governed by what she called a "bodyguard", or "a defense member".
"They are always traditionally seen as vulnerable beings. For example, if a girl wants to leave the house at night, the mother immediately summons the male in the house, such as her brother, to accompany her."
According to Dr. Adiba: "the societal belief that women are weak leads to the misconception that they are easier targets for assault. This perception makes them more vulnerable to accidents than men because their psychological vulnerabilities are noticeable in public and can be taken advantage of by attackers."
"A thief may easily steal, kidnap, or assault a woman or girl because he thinks she won't chase him, beat him, or resist. It is evident that women today possess both physical and mental strength, as well as a strong sense of awareness and self-protection, which allows them to defend themselves while outside of their homes."
Dr. Adeeba states: "The sexual factor is the second reason why women are often targeted with verbal abuse."
"Women and girls are often perceived as seductive and beautiful, which unfortunately puts them at a higher risk of being subjected to violence," she said.
Proper upbringing
Dr. Adeeba divided the recommendations to protect women and girls from violence outside the home into two categories:
The first is in the long run, and it "comes"through a healthy psychological and social upbringing that fortifies and strengthens them, and provides them with a kind of self-defense, and the ability to predict any kind of risk."
She also explained that "immunizing women and girls with awareness and autoimmunity is essential. Girls/women need to be able to choose their friends, surroundings, and places suitable for them. It is also important for them to distinguish between right and wrong societal values. They must also have the ability to act independently and swiftly."
She emphasized that "girls should not be confined to their homes due to societal fears and a fragile security environment. Instead, parents have a fundamental responsibility to train and empower their daughters from a young age, teaching them how to defend themselves and handle dangerous situations."
Martial Arts
As for steps that reduce the risks that women and girls may be exposed to in the short term, Dr. Adiba spoke about "the importance of rational behavior, for example, reducing going out late at night, going out with trusted people and known areas, and not being in areas considered security hotspots."
The second way to counter any dangerous situation outside the home is to "encourage women and girls to engage in physical combat sports such as martial arts."
She warned against arming girls and women, such as carrying sharp objects with them, because they may misuse them or put themselves at greater risk.
"Women and girls are not required to confront the criminal and take revenge on him. They are only required to get out of the dangerous situation with the least potential damage," she said.
The suffering and challenges of women and girls in Lebanon are not limited to domestic violence, sexual blackmail, social prejudices, inequality at work, preventing them from passing on nationality to their children, unjust and unfair personal status laws, and denial of custody. It has been a recent rise in violence outside the home, increasing the risks they face, in light of the worsening living crises, inflation, and the consequent risks to security.
Last but not least, it may seem too early to generalize the idea that Lebanon's women and girls have become targeted, but they are undoubtedly at risk.