Genitals.. It's Called "Vagina", It's Called "Penis"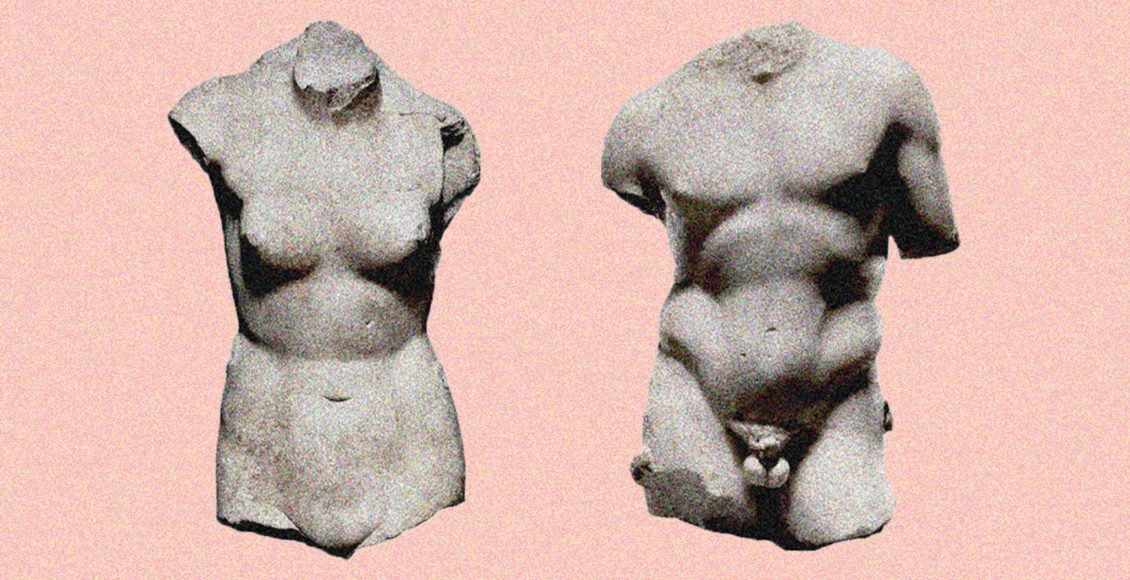 By Samia Allam
"Ashush, Al-Surm, Al-Aas, Al-Aasaba, Al-Nim, Pistol, Dove, Bulbul, and Eir," these are different colloquial names for the genitals of the two sexes, female and male, which are used in some Arabic-speaking countries, including Lebanon, Tunisia and Jordan.
But, the dictionary of colloquial nouns for the genitals, not to mention their counterparts in classical language, can accommodate dozens of expressions and words, which are sometimes ambiguous and obfuscated, (such as: My/your thing, Down there), and at other times are laced with connotations of shame and disgrace (such as: My/your Defect).
And sometimes with "repulsive" obscenities (such as: Pussy and Cock), until the words became "insults" over time.
There are also labels stemming from the culture of glorifying males, reflecting the boasting of the penis and showing its strength.
Calling it names after weapons, which is common in societies of a tribal nature, such as Jordan and Iraq. Among these designations: "Pistole, Klashinkov, Machine Gun"
On the other hand, the female genitalia gets called names that suggest weakness and diminutiveness. From the type of "Nanous, Fanoosh, and Al-Kuko", and that the man in the sexual relationship is the "active" one, and the woman is "the passive" one.
At best, ambiguous words of "pampering" are also used, such as calling the female genital "Susu, and "Bubo".
Whereas if the child's name is Ahmed, his penis is referred to as "Little Hamada".
All these names and even terminologies do not call things by their names, so we call the female genitals "Vagina" and the male one "Penis"!
Generations and generations of boys and girls, and young men and women, in the Arabic-speaking region, are raised to be afraid of the sexual and genital organs, and to be ashamed and / or averse to talk about them. Until our "body", which is supposed to be under our complete control, has become "the biggest mystery", and sometimes a source of "inconvenience and confusion" for us. 
In childhood, we were told that talking about "down there" or touching it is a "disgrace" and a "danger" for us in the future, especially for girls, because of the alleged myth of "virginity" and the correct name for that fold of mucous membrane is "Hymen."
It is not surprising, then, that these generations raise their children on what they were brought up on.
Even if these generations become more aware and open, they will stand helplessly in front of their children's questions about these intimate parts, about sex, and about the secrets of the body.
They will not know the answer, nor how to educate them in what they did not learn until very late.
This siege that is imposed on our bodies by intimidating us from just touching it and asking about it, was expressed by the feminist pioneer Nawal El Saadawi when she wrote: "Since early childhood, I realized that there are things that are impossible to reveal to myself, or to the people closest to me. The first is: my relationship with God. The second: my relationship with my body. "
Likewise, when she said: "It was impossible for me to know the cause of menstruation until I entered the Faculty of Medicine and studied physiology, including the uterine organ in the female body."
Correcting concepts and terminology
The regional training course on sexual and reproductive health and rights, organized by the Fe-male Association, at the end of last year, in cooperation with the "Sharika Walaken" feminist platform in Turkey, opened my eyes to a lot of information and facts about the importance of getting to know our bodies, and building a good relationship with them since childhood.
Thus, raising our children in the same way, including calling things by their correct names, without equivocation.
Correcting a lot of misinformation about the body and sex was one of the most important benefits of the workshop, including knowing that there are scientific opinions that say that the cycle of sexuality begins during the formation of the fetus in the mother's womb, and not in infancy as is commonly believed. This was one of the shocking pieces of information for me, among what I learned during the workshop.
I returned from the workshop with the certainty – and desire – that I need to learn more about my body, with the belief that I only know the husks of this mold that I have been living in for 35 years, and I have never been friends with it, but rather deafened my ears from the groaning of its complaints several times.
On the new page of my relationship with my body, I became more observant of everything about it, and of course about me.
Meanwhile, I was exposed to two situations that made me happy and satisfied, despite their simplicity.
The first, when I opened my room's locker in the residence hotel in Istanbul during the workshop, and found some sanitary pads left in anticipation of a guest's need.
My whole life, I was forbidden to leave sanitary pads in the bathroom of my own house, under the pretext that "It's better like this, so your father or brother don't see it." Pharmacies used to give me pads in a "black bag".
It was great to see the hotel management concerned that a menstruating woman might occupy this room and might need sanitary pads without warning.
While it is a paid service, I have never found sanitary pads in any hotel I have stayed at before. Note that many of the participants in the workshop shared the same observation.
The second situation was when I searched for the type of sanitary pads I use, which are not in great demand because they are antibacterial, and the pharmacist offered me to try another brand that is also antibacterial.
With the first use, I was blown away by the motivational phrases on the pads such as: "Wake up and shine, have a nice day", "Bye Bye smell, welcome fresh", "Smile and freshen up, bacteria away", and "Bye Bye scent, we won't miss you".
For the first time I feel so happy and excited when changing the sanitary pad, to read the message written on it, even though it is repeated.
Only a woman can understand this feeling of frustration by advertising messages for sanitary napkins, such as: "Are you going through your most difficult days and are afraid of stains?", "You can't sleep, and you wish you were comfortable enough to move however you want"…etc. These are negative messages that repulse people from menstruation.
These two positions prove that we do not ask for much, only respect for our bodies and an understanding of their physiological changes.
But first this requires that we all be aware that the breasts, clitoris, vulva, and penis are important parts of the body and are not a defect.